Voodoo Stories from Haiti

Last night my Haitian girl spent the night and as we were going to bed I asked her to tell me some stories about Voodoo from her life. She's a rich Haitian, so I thought she would just start telling me myths that she has heard, but she got very serious and starting telling stories of the Voodoo that happened within her own family. Her tone became quiet and serious and you could hear the fear in her voice as she recounted the stories. The atmosphere was contagious and she started speaking in almost a whisper, chills ran up and down my spine.
These are just stories right? According to the CIA World factbook, about 50% of Haiti practices Voodoo. 50% practice it, but it surprised me that this girl attending an elite University in Dominican Republic took it so seriously. 50% practice it, but do all Haitians believe it? I asked her.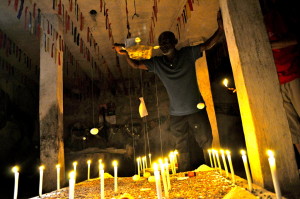 "Do you believe in Voodoo?"
"When you believe in Voodoo you open yourself up to it?" She said while clinging to me in bed.
"How is that?" I responded
"The more you believe, the more they can access channels to you and bad things can happen."
"So do you believe?"
"No." She responded, looking scared and obviously lying.
Here are some of the Voodoo stories from Haiti that she told me last night:
Zombies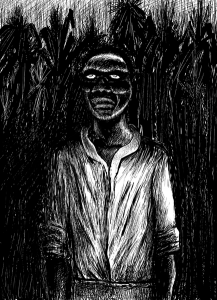 The first of the Voodoo stories she told me was about zombies. Zombies are people that have been zombiefied by Voodoo priests. It's considered dark Voodoo and it is done to make them slaves, usually to work in the fields.
I am paraphrasing here, but this is what she told me about her families experience with zombies.
"My great grandfather had zombies. He was a wealthy man and he used them to work the fields. To make them he had a Voodoo priest make the transition. After being burried, they would be pulled out of the ground as shells of what they once were.

Somebody taught me once how to tell if somebody is a zombie or not. It's all in the eyes. I can't remember exactly what they told me, only there is an emptiness in there. They mindlessly walk around doing their masters bidding. I have seen some walking around while I was growing up.

My great grandfather had a lot of them. They would work them fields as slaves to their master, but sometimes something would cause the Voodoo magic to wear off. It was usually caused by an encounter with a passed loved one, or something that triggered a very powerful past memory.

One of my grandfather's zombies had something like this happen to him and the zombie tried to kill him. My mother was there and she has told the me the story a few times. She said that she saw her grandfather stop the zombie from killing him and cut off the head of the zombie, right in front of her. "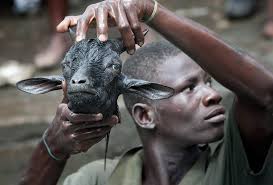 She went on to tell me that a group of American researches have since come to Haiti to investigate the zombies in Haiti. Apparently, there is a herb that they give these people that makes them a bit paralyzed and causes massive brain damage. These people become types of vegetables and are only able to perform simple tasks, like field labor. The Voodoo priest's buries them in light soil, so they can still breath and pulls them up out of the soil a couple days later as zombies.
Werewolves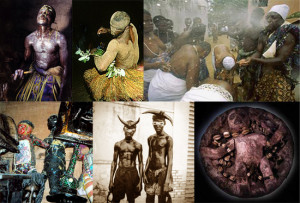 When THC and I were in Haiti we heard and read about werewolves that were publicly lynched. It seemed so ridiculous to us at the time, but learning more about Haiti and the grip that Voodoo has over the country, it starts to make sense why lynchings for things like that are so common there.
"What about werewolves?" I asked her after she finished the Voodoo stories about zombies.
"Werewolves aren't really what you think. The creole translation to English comes out that way, but they are usually winged monsters. They can be half wolf or half bird or any animal, but werewolf just means that they practice an evil art of Voodoo where they wear the skin of an animal and kill in the night.

There have been many men who have been lynched when they were found out to be werewolves."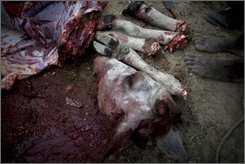 The choice of words she used surprised me. She didn't believe that these were falsely accused men, she believed that the men that were lynched WERE really werewolves.
From my time in Haiti I could imagine a mob of Haitian people on the dirt street, launching rocks at a figure in the middle. She continued.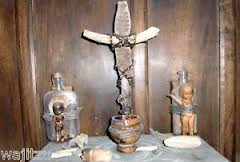 "There is a story about a werewolf that stole a new born baby in the middle of the night. They eat newborns because they feed on innocence and there is nothing more innocent than a new born baby.

One night one of these werewolves (or winged monsters) entered a house and scooped up a newborn baby. The crying woke up the family and as they ran outside towards the cries, all they saw was the winged creatures silhouette against the moon, flying into the darkness.

Werewolves are normal men that use Voodoo to use the skin of an animal to turn themselves into monsters in the night. Because they are so strong when in their skin, the best way to kill a werewolf is when it is in the form of a man.

A hero decided to go and rescue the baby before it was eaten. He was able to find the house of the werewolf. When he was there he noticed that the skin of the werewolf was left out, he poured salt on the skin and it shriveled away. Without his skin, the werewolf didn't stand a chance against the hero and was slain. The hero returned the baby to the family."
It's interesting how powerful salt is in Voodoo. She said it can help heal a zombie or destroy a werewolf.
Good Voodoo Priests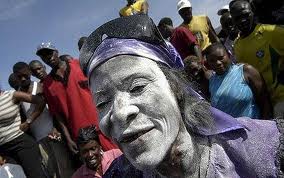 There are Voodoo stories of the dark side of Voodoo and the good side of Voodoo. Werewolves are people that practice dark Voodoo, but there are good people with great Voodoo power as well.
"When a person becomes as powerful as they can become with good Voodoo, they are able to transform into large owls. My mother has told me a story about one of these when she was a kid.

She was in her room and she heard a constant tapping form downstairs in the kitchen.

Tap… tap… tap… tap… tap… tap.

The constant rhythm never changed. She went downstairs to find out what was making the noise and she saw a large owl tapping on the glass of the window. It turned and looked at her straight in the eyes, void of any fear, as if asking "What are you looking at?" Seeing an owl like that terrified her and she ran and hid in her room until her brother found her hours later.

When they went downstairs, the owl had vanished and when her mother got home she kept saying "How dare one of them enter the house without asking."
Selling your soul to the devil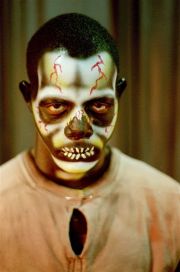 She came from a family with money and apparently it all started with her great grandfather who single-handedly became one of the richest men in all of Haiti in a very short period of time. How was he able to do it? It's a very interesting story.
"My great grandfather was very successful and is the reason that my family now has money. However, they say that he didn't achieve such wealth without the help of Voodoo; he sold his soul to the devil.

He became very rich very fast, but selling your soul to the devil doesn't come without a price. Every year a demon comes to collect something of value. There are many stories of tragedy where the demons supposedly took various people and things of importance from my grandfather.

He ended up living well over 100 years, so the stories grew and grew. He finally died and it was accepted that the reason he lived so long was because the devil was helping him. Our family saw untold amounts of success because of his deal with the devil, but also much hardship because of the consequences. My mother says that the devil still tries to collect from the family.

A few years ago something happened to my brother. He was in his room in Haiti and something woke him up. The room was very dark, but he could clearly see two red, evil looking eyes staring at him from the foot of his bed. He could make out the silhouette of a little girl, but it was too dark to see any features of her face other than her red eyes.

She slowly moved closer to him, touching his leg and moving up his torso. He didn't know what she wanted, only that she wanted to do him harm. He was completely paralyzed in his bed. He tried to move, but something wouldn't let him and he could only watch as her finger, now at his stomach, moved up his body towards his face.

When she got to his head she moved her head closer to his and as her mouth was approaching his, a figure appeared behind the red eyed girl and chased her off. It was the great grandfather who had sold his soul to the devil. When the girl was gone, his great grandfather smiled at him and vanished."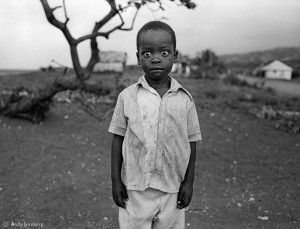 I felt chills running up and down my spine while visualizing the story. She stared off into the distance, clearly thinking of something.
"I can't help but visualize what those eyes must have looked like." She looked scared. "Can I sleep here tonight?"
"Yes you can." I replied, still with an eerie feeling. The fact that this girl believed every word that came out of her mouth, made it seem almost real.
Read more stories about girls that I have met in The Key Logger. It's the stories of my past relationships, where I would see the real them by using a key logger to access Facebook, etc. to see how they really felt about me. *Click Here*