3 Gigantic Regrets From My Life and the One Way to Prevent Them

I don't have many regrets in life. Overall, I feel like I have been living my life to the fullest. However, there are a couple things that I do regret and all of them can be fixed by doing one simple thing. I will show you 3 of my regrets and the one thing I could have done to prevent them.
The Sister Threesome, Angkor Wat, and My Sexy Spanish Professor

The Sister Threesome
I had just arrived in Manila, Philippines. It was the first time I had ever been in Asia and the newness of everything made me feel a powerful sensation of adventure. I had been seeing a girl I had pipelined (internet gamed before arriving) back in the states for the last few days, let's call her Loren. She was the first Philippina girl of many that I would sleep with in Asia.
One night at about 4am I hear banging on my door. I had no idea who would be at my door so late. I got up and opened the door and half slumped in the doorway was Loren and another girl. The two were obviously drunk and they both stumbled into my hotel room. The other girl was very attractive, a bit more attractive than Loren.
"Who is this?" I asked.
"This is my sister." Loren answered and introduced me.
I talked and flirted with Loren and a bit with her sister. Loren kept trying to convince me to stay in Manila, but I already had the ticket to go to Cebu the next day. She said she would do anything, she worked her charms, seduced and did everything she could to get me to stay. I kept kissing her, but brushed it off.
Later we were all 3 on my bed and her sister touched my leg in a sexual way. I thought about how attractive her sister was and what I could do. A 3some popped into my head. "Ah, that would never work." I thought to myself. These two ridiculously drunk girls were lying on my bed and I just brought my girl into the bathroom and had a quick session. My biggest mistake of the trip.
At the time I had no idea how much value I had in the Philippines, that her sister was pretty slutty, or that Loren was willing to do whatever it took for me to stay. To top that all off they showed up in my room completely drunk. I will never get another opportunity so perfect again. A sister 3some was right in front of me, but I didn't take it.
What was the cause of this? Inaction. I thought about the possibility, but I didn't act on it. Had it been only a month later I would have acted on it, but in that moment with my first girl in Asia I never pulled the trigger.
Life is about taking risks. I played it safe and I lost… badly. The worst thing I could have done in that situation was not doing anything at all… and it is my biggest regret of my 4 and a half month trip through Asia.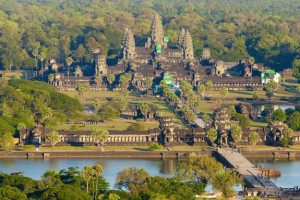 Angkor Wat
I was in Cambodia with some free time and I was deciding whether or not to go to Angkor Wat. Angkor Wat is an ancient Cambodian city that is very well preserved. It is filled with temples and amazing ancient architecture. However, to get there I had to take a bus.
I had ridden a lot of buses in South East Asia and it was always miserable. I get motion sickness(sick to my stomach) pretty easily, especially along the shitty, windy roads of Asia. It was a 6 hour bus ride from Phnom Penh (my current city) to Angkor Wat and the long bus ride didn't appeal to me.
I decided to stay in Phnom Penh because of the 12 hour bus ride (there and back).
As I continued my trip through South East Asia other travelers would ask me if I went to Angkor Wat and then show me the amazing pictures that they took. The pictures were always amazing.
"You went to Cambodia and didn't see Angkor Wat?"
The articles I saw online about it being one of the wonders of the world and the constant bragging of other travelers that it was the most amazing thing they had seen in Asia ate at me.
I didn't see it because I didn't want to ride in a bus for a total of 12 hours… Inaction, a second time, was the problem. Doing nothing got me in trouble again.

The Spanish Professor
Back in college I took a Spanish class. It was the first time I had ever studied Spanish and it was made even more fun by my sexy Spanish professor from Argentina. She was the hottest professor I had ever had and the second hottest teacher i had ever had (second to my 7th grade English Teacher). She was fun and I immediately had a crush on her.
I picked up on Spanish pretty quickly and my professor and I would constantly tease back and forth. It became a really fun relationship. One day I asked her for some help after class.
"Sure, can you be at my house at 7 tonight?" She replied.
"Uhhhh.. Sure." I replied after expecting an extra 5 minutes of help after class.
"Here's my address…"
That night I showed up at her house and knocked on the door. She let me in and introduced me to her husband, who was just leaving. We sat at her table and started studying Spanish. Then, we did a particular exercise where she tells me something in English and I translate it to Spanish.
"I want to go to the store." She said.
"Quiero ir a la tienda." I replied.
"What I like about you, is how you look at me." She said.
"Que me gusta de ti, es como me miras." I replied. As I looked up, her face was hovering 6 inches from mine and her eyes darting from one eye to the next.
"No, you want to say Lo que me gusta de ti." She corrected still six inches from my face.
"Lo que me gusta de ti, es como me miras." I said.
As the lessons went on the tension built and built. I liked her, but I was confused. It freaked me out that she was married and I never expected my sexy Spanish teacher to be into me like that.
The session ended and she walked me to her front door.
"You know my husband and I are separated."
"Oh, that's too bad."
She stared into my eyes and came very close to me.
"Well I have to go." I replied and walked back to my car. She had wanted the kiss.
I got home and thought back over what had happened. Wow… what was wrong with me? I planned another study session with her at her house and a few days later I was back in her living room.
This time I suggested we study on the couch. I listened as she started literally bragging about all her accomplishments. It seemed so weird, but she was trying to DHV herself (Demonstrations of Higher Value); she was using her accomplishments to try to impress me. It had never been more clear that she was very into me.
I started kinoing and then I kissed her. It turned into a heavy make out session and then I slipped my hand down the back of her pants. She was 37 years old and at that time I had never been with anybody older than 29. Her body turned me off a bit and I made an excuse to go home.
"You will go now? I was just about to take a shower. I would like some company."
I declined and said I must be getting home.
I didn't see her again outside of class, I just wasn't that attracted to her. But when I think back to it now at an older age, I wonder why in the world I didn't do it. She was attractive, she had a fun personality, and she was in the process of a divorce with her husband. Now I can't even tell the story of how I hooked up with my hot professor because it never happened. All, again, because of inaction.
The Solution
It's a rare thing where I regret getting out of my comfort zone and taking action. It is not a rare thing that I regret not taking action. Whether it be not talking to a cute girl in a grocery store or not going for a girl when you had the window, or being lazy and spending more time in my room; I nearly always end up regretting doing nothing.
I don't have very many regrets from my life, but I do have some and there is one way to prevent every single one of these regrets… take action.
Read more about my trip to Cambodia here: http://swooptheworld.com/cambodian-girls-part-1/