It's been a while since I wrote one of these… About time, my memories are already fading 🙂 I already discussed some memories of Thai girls in part 1, part 2 and part 3, so feel free to check these out as well.
Anna
In one word: Shoring!
Anna was my first shore. Ever. For those you don't know what shoring is, it's basically seducing a pro girl by using game to build attraction and get her to bang you for free.
I had just arrived in Bangkok and everything was still new to me, including the excess grey-zone and full-on prostitution. After I had spent my first few days dating the Thai girls I had pipelined on online dating websites; I was now ready to see the go go bars that Thailand is so (in)famous for.
So I took the BTS sky-train to Soi Cowboy, a small alley full of go go bars, and I sat down at the first bar to order a beer. It was still early so it was very calm. Besides a few old white tourist in shorts, rocking the white socks and sandals combo, I was one of the only customers.
The go go girls didn't have much to do yet and two of them joined me at my table. Anna, a cute Thai girl that with dyed-blond hair and her less attractive friend who I couldn't care less about.
I didn't have my shoring routines yet at that time -I barely even knew what shoring was- but I guess it was written in the stars that I would end up shoring the very first bar girl I met.
From the start I made clear I wasn't a 'customer' and proceeded gaming them as if they were regular girls. I got Anna's number and got her to meet me on her free day, and banged her easily.
I had already had some good sex with Thai 'good girls' and since was my first shore -a PRO- my expectations where high. I was expecting some advanced, mind-blowing sex… but it was average at best.
Nonetheless Anna was a fun girl. She would booty call me from time to time and if I wasn't busy doing something else I'd let her come over. Always she would bring with her some amazing over the top stories of what had happened to her.
She gave me a lot of insight into the "scene" and she explained me the inner workings of  go go bars, bar fines, short and long time deals, how they have to hit their quota… etc.
Very insightful.
She also made it clear what the word of a Thai prostitute is worth. She actually had a British boyfriend that was sending her money so she didn't have to do "that job" anymore. Poor trusting guy should have invested his money a little bit better.
This one time she answered his call while she was giving me a blowjob. She then got into a fight over the phone with her boyfriend because "he didn't trust her enough!". She would scream at him "Of course, I'm home watching TV! I hate it when you don't trust me!", then continue sucking my dick when it was his turn to talk.
Summary
Shoring (banging a pro for free)
Average sex
Insightful experience
Honest and trustworthy girl 😉
Khem
In one word: Body
I met Khem at one of the countless party nights I had in Kao San Road.
Kao San Road gets hated upon by many as it is filled with pale, left-wing backpackers that wear fisherman pants (god I hate fisherman's pants), but it's also a hot spot for Thai girls that are looking for farang (foreign / white guys). With the right approach and if you manage to ignore these smelly travel hippies (they are no competition anyway), it can be a great venue.
I got laid nearly every night I set foot there.
Though both the quantity and quality of the Thai girls here varies greatly from day to day. But that night it was great.
I met Khem in one of the night clubs. Typical party girl. I started dancing with her, made out with her and then used my classic "7-11 close" to get her out of the club and into my hotel room. Piece of cake. Routine.
She was wearing one of those Thai jeans booty shorts that are popular there for some reason. They look like they are homemade out of an 80's mom-jeans. They didn't really do her justice because when I took them off… damn: She had an awesome body.
A very nice round booty, cute little boobs, perfect skin and she was great in bed. Possibly the top 3 of all my Thai girls.
The only weird thing is that she loved to put make on her eyes exaggerating her eyebrows, making them really dark and bigger. I've seen some other Thai girls doing this as well, a little bit freaky but it made her more exotic: favela-points 😉
I banged her a couple of times but she was a real farang hunter. I think her notch count could come close to that of Anna from the previous story 🙂
Here's a digital memory of her boobs:
NSFW pictures CLICK HERE
Summary
Night game (Kao San Road club pick up)
Great sex
Out of control party girl
Eyebrows
More Thailand, more Thai girls
For everything you need to know about dating and seducing Thai girls, shoring tutorial, kao san road and other night life guides, check out my Thailand dating guide:  Don't Pay for Sex in Thailand – The ULTIMATE GUIDE on Seduction in Thailand.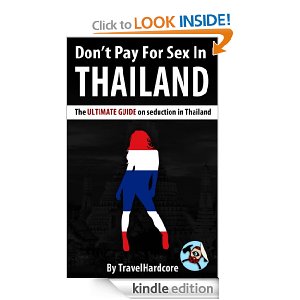 Peace,
THC